Each year, a "commemorative" Granada Hills Holiday Patch is issued as a keepsake memento and happy memory. Over the years the design of the patch has incorporated the award winning design of the proud Granada Hills Chamber of Commerce logo as well as in recent years, newer parade patch designs that incorporate the yearly selected " theme" that relates to all within the imagination of the happy holiday season i.e. "Winter Wonderland", Songs of The Holidays, "Holidays around the World", and the whimsical and futuristic "Holidays of the Future".
This "cyber gallery" includes an official Granada Hills Holiday Patch from each of it's year of issue since the inaugural 1984  Granada Hills Holiday Parade and it's 1983 community "Youth in Action" Parade forerunner and related issued Parade Patch.
We wish to especially thank Susan Ciccarelli for her two decades and ongoing efforts to create each yearly design of the official Granada Hills Holiday Parade Patch.
Parade Patches of current year are for sale at the Granada Hills Chamber Office while annual supplies last.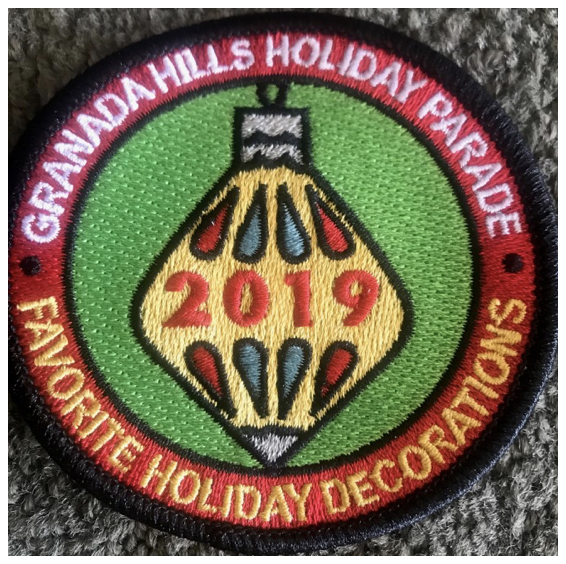 Photos Courtesy of John V. Ciccarelli Historical Parade Patch Collection